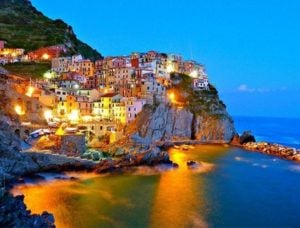 Day 6: Bologna – La Spezia – Cinque Terre – Rapallo
Visit the Cinque Terre, UNESCO World Heritage Site: Riomaggiore, Manarola, Corniglia, Vernazza and Monterosso. Continue on to Rapallo, a pretty seaside resort town on the Italian Riviera. After a short visit of the city center, check into a beautiful hotel and enjoy dinner with fine local wines. Overnight stay.
Day 7: Boat to Portofino
Today's highlight is a mini cruise to Portofino, a small fishing village with brightly colored houses that became home to the "rich and famous." Next visit to San Fruttuoso, an isolated fishing village with the Abbey, a seashore monastery near Portofino, and Camogli, a small, charming fishing village and tourist resort. Dinner and overnight stay.