Day 1: Naples Airport/Station – Hotel Naples
Arrivai at Naples lnternational Airport/ train station and transfer to the hotel for free time and dinner.
Day 2: Naples
Breakfast at the hotel and visit of the Naples Underground. The underground shafts of 2400 years of history, gave rise to the legend of the Munaciello, the spiteful spirit that bothered the Neapolitans. In the afternoon visit of the Cappella Museum of Sansevero, linked to the esoteric alchemist Prince, one the leading and controversia! characters of his time. You can admire the Veiled Christ and the mysterious anatomica! machines, representations of the human body. According to the "black legend" the Prince of Sansevero had his servants killed and embalmed the bodies to carry out the works. Dinner and overnight.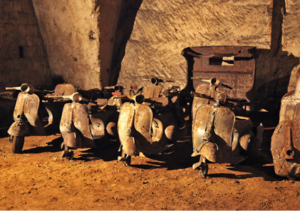 Day 3: Naples
Breakfast at the hotel and visit to the Fontanelle Cemetery. Unique site in the world, in an old tuff quarry, it represents a former ossuary of over 3000 square meters, with about 40,000 remains of the victims of the epidemie catastrophes that hit Naples. lnside the Cemetery the cult of pezzelle souls was born, where the tradition states that Neapolitans adopted a skull asking for its protection. In the afternoon visit to the Convent of Santa Maria la Nova that is, according to some scholars, the tomb of Vlad lii of Valacchia, the Count Dracula. Dinner and overnight.
Day 4: Hotel Naples – Naples Airport/Station
Breakfast at the hotel, transfer to the station/ airport at the end of the services.