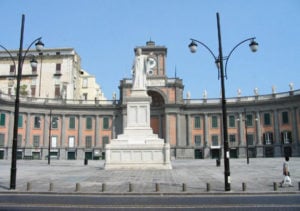 Day 1: Naples Airport/Station – Hotel Caserta
Arrival at Naples International Airport/ train station and transfer to the hotel for free time and dinner.
Day 2: Capua
Arrival at Capua, city culturally linked to the language that Dante chose to write the Divine Comedy. The first text written in the vernacular, a language already exalted by Dante in De Vulgari Eloquentia and later chosen for the Divine Comedy, is known as Placito Capuano (or also Placiti Cassinesi). The guided tour includes the historical center of Capua and the Museo Provinciale Campano. Dinner and overnight.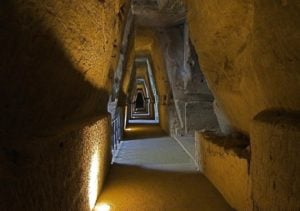 Day 3: Naples
Arrival in Naples and guided tour of the UNESCO world heritage center. Visit of Piazza Dante, one of the largest existing squares dedicated to the Tuscan poet. Tour to Port'Alba with book markets and ancient texts. Visit to the Virgil's grave, Roman poet and protagonist together with Dante, on his journey to Hell. Dinner and overnight.
Day 4: Pozzuoli
Visit to Lake D'Averno, near Naples, considered the gateway to hell for the classics. Virgil himself places the entrance to hell near the volcanic lake in the Aeneid. Visit to the archaeological excavations of Cuma, The Cave of the Sibyl, mentioned in Virgil's Aeneid, famous for its oracles. Dinner and overnight.
Day 5: Vairano Patenora – Raviscanina
Arrival at Vairano Patenora and visit to the Abbey of the Ferrara. Located near the Via Franchigena, road that led pilgrims to the Holy Land, the abbey is known for having hosted Celestino V in his spiritual training. Inside the chapel there is a fresco, unique in the world, which would represent the Pope whom Dante places in Hell because of his abdication. Visit to the historical center of Raviscanina, considered one of the towns that may have given the birth to Celestino V. Dinner and overnight.
Day 6: Hotel Caserta – Naples Airport/Station
Breakfast at the hotel, transfer to the station/ airport at the end of the services.