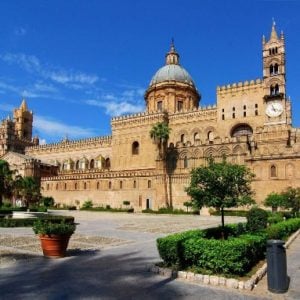 1° day: Naples Port-Palerme
Meeting of the participants in the agreed place at Naples port, fulfillment of the boarding formalities and departure by boat for Palerme. Accommodation in cabins, dinner and overnight.
2° day: Palerme
Breakfast on board. Arrival to Palerme in the morning, accommodation in reserved GT Bus and transfer to the city for a visit of Palerme: The Botanic Garden, one of the largest institute of the Europe; The Foro Italico, located on the sea in front of the ancient Strada Colonna; The Church of St. Maria della Catena. Next visit to: The Palazzo Chiaramonte Steri, which is known mostly for being the Inquisition Court. At the end of the morning visit, lunch in the center, in one of the typical itinerant kiosks, famous for their typical products of the highest quality. In the afternoon a walk to the historic Market of  Vucciria, the Quattro Canti, Piazza Pretoria and the Church of St. Maria dell'Ammiraglio, also known as Martorana. In the evening transfer to the hotel, accommodation in reserved rooms, dinner and overnight stay.